Flight Reservation For Visa Without Buying Actual Flight Ticket
Flight Itinerary for Visa or Flight Reservation for visa is one important document which embassy requests for approving travel visa once travler completes Schengen visa interview. Applying for a Travel Visa can be extremely complex, downright confusing, and very overwhelming. There are so many factors to consider when planning travel arrangements that it can become difficult to remember what you need and why you need it. If you are in need of a travel visa for your trip, you will need to provide several documents in order to get approved. It's not quite as simple as filling out a form and sending it off. You may have heard of a Flight Reservation for Visa requirements before but if you haven't, this article will explain everything you need to know and help you understand the process.
Overview of Schengen Visa Application Or For Any Country Visa Application
When applying for a visa the embassies require several documentation and fees in order to process the application. They are looking to gather as much information about your trip as possible so that they know where you are going, when you are going, and how long you are staying for. By providing these details the embassy gets a general idea of your travel intentions and it significantly increases the chances of approval. This doesn't mean you should purchase flight tickets just yet.
What Is A Flight Reservation For Visa or Verifiable Flight itinerary For Visa?
When filling in your visa application you will find a section where they ask you to provide your travel documentation. Many people assume that the embassies want to see their ticket confirmation and so, they proceed in purchasing actual flight tickets, hotel accommodations, and travel medical insurance. A flight reservation is also known as a flight itinerary. It is a dummy ticket that is fully acknowledged by the embassies as part of your travel plan. The flight reservation/flight itinerary includes all details of a flight and looks pretty much the same as a fully purchased flight ticket, but of course, it's a dummy air ticket. It most cases it is mandatory that you provide a flight reservation for visa applications for getting travel visa approval.
Embassies across the world requests for Transport Booking and its commonly referred as
Transport booking
Visa Travel Itinerary
Confirmed Flight itinerary
Confirmed flights
Dummy Airline ticket
Dummy flight ticket for Visa
Return Ticket
Airline ticket reservation
Airline Reservation copy
Transport document
Why Buying Full Price Flight Ticket For Visa is Not Advised By Embassy?
Buying flight tickets prior to your visa approval is a very risky move, one that is not recommended by any Embassy. By purchasing flight tickets, you risk losing money should your visa application be rejected. Many Schengen consulates clearly stated the below to benefit visa applicants from losing money.
"Submit flight reservation or Round trip itinerary showing flight numbers, specifying entry and exit dates from Schengen state when applying for the visa"
There is no risk involved when you buy a Flight Itinerary or Reserved Flight Ticket or dummy flight ticket instead of buying full price costly flight ticket. Flight reservation for Visa application is not actually a real flight ticket but merely a document which can buy from trusted online visa agencies with a small fee and save your money from buying costly flight tickets
How To Get Flight Itinerary Without Paying the Full Price of flight ticket
You can easily get confirmed flight itinerary and/or flight reservation for visa application by paying small amount to trusted online visa agency. You can't get this service for free as the price paid for flight itinerary is worth for getting your visa approval. There are many airlines who can provide these services but itinerary won't be valid for long until your visa application gets approved. Searching online for good companies offering dummy ticket or flight itinerary can be time consuming and will take away your precious time on getting right things done for submitting visa application. You can use trust worthy online visa consultation companies for flight itinerary purposes
Why Do You Need Pre-Visa Round Trip Flight Reservation or Confirmed Flight Itinerary
Pre-visa flight ticket is buying airline ticket before even visa is approved which can be very expensive and you lose all your money if you have paid full price flight ticket. For pre-visa flight ticket you can use flight reservation document or dummy flight ticket which is accepted by Embassy to approve your visa.
Do You Need Verifiable Round Trip Flight Ticket For Getting Visa on Passport
A round trip ticket for a visa application is a required by Consulate to check if you can enter and go back based on the scheduled date and time. Round trip flight ticket always has at least 2 flight, one for reaching the destination country of visit and the other from destination country to home country. Embassy also recommends to always submit round trip flight itinerary or airline complete itinerary which visa officer can look and make a decision on visa application.
How Booking Flight Reservation For Visa Works To Get a Visa Approval
When booking a flight reservation, you will pay a fraction of the full price of a flight ticket. You will then receive your flight reservation confirmation via email, which you then add to your visa application documentation. Once your visa is approved, you can then submit your intended travel dates and book an actual flight ticket.
Proof to know why consulate asks for flight reservation and proof of hotel for the entire trip
In Schengen visa application form you can see flight itinerary or flight reservation , hotel accommodation, travel insurance is asked specifically and they also provided a special note not to buy transport bookings until visa is approved.
Example: Traveler seeking Schengen visa from Denmark Embassy
Denmark Schengen visa application form asks in point 5 &6 to submit below documents which can be seen as highlighted in yellow.
Transport Bookings:
Booking for a round-trip airline ticket and/or other means of transport. Note: Please do not purchase your transport bookings until a decision is made on your visa application
Hotel Accommodation:
Travel itinerary including hotel reservation or  confirmed accommodation for the entire trip.
Schengen Travel Insurance Policy
Travel Medical Insurance should be purchased to cover insurance for the entire trip.
Denmark Consulate flight itinerary visa requirement
Dummy Flight Ticket or Dummy Airline Reservation Visa Requirement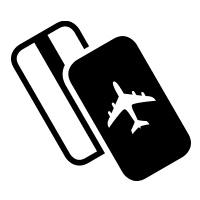 SCHENGEN VISA
FLIGHT RESERVATIONS
German Consulate flight itinerary visa requirements
Below German Schegen visa application form list point # 3 to submit outward and return journey flight tickets and is highlighted in yellow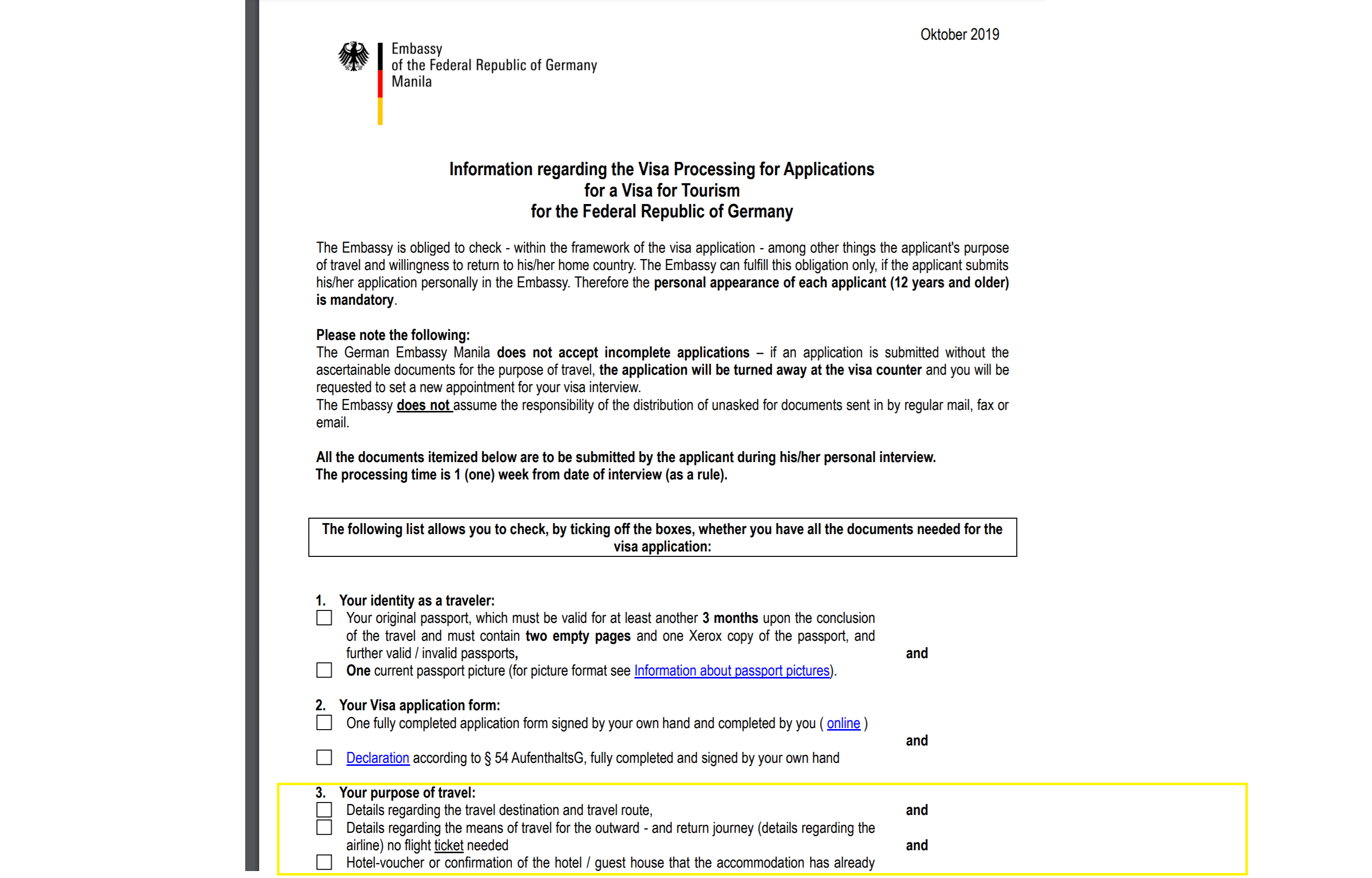 Netherlands Consulate Roundtrip Flight Reservation visa requirement
Frequently Asked Visa Questions related to Flight Itinerary or complete travel itinerary
1) Should I Book Actual Flight Ticket instead of Flight Reservation?
No. Buying flight tickets prior to your visa approval is a very risky move, one that is not recommended by any embassy in any country. By purchasing flight tickets, you risk losing money should your application be declined. Also, visa applications can take slightly longer depending on the demand and how much information you have provided. In some cases, people have purchased flight tickets and hotel reservations before they received their visas and, because of the processing time, missed their flights and lost their money.
2) Why Does Embassy ask For a Flight Reservation/ Flight Itinerary For Visa?
The main reason embassies wish to see itinerary or  reservation for visa applications is because they want to understand your travel intentions. It also confirms that you are applying for the correct visa in terms of which county/countries you plan on visiting. By providing flight confirmation for visa documentation, they have a clear insight into how long you are staying in the country and that the visa you are applying for will cover you for the accurate length of stay.
3) What is Round Trip Flight Ticket or Round trip flight reservation for Visa ? 
A round trip flight ticket for a visa is also referred as dummy airline ticket which provides outward journey and return Journey complete details. This proves to the authorities that you have no intention of overstaying the length of your visa. If you only provide a one-way flight reservation, then you have a higher chance of being rejected as it makes your intentions looks suspicious.
4) Can I Buy travel Itinerary for Visa From Airlines?
Yes. There are few airlines which can provide this service but they cancel reservation in 24 hours and your visa will be rejected if support to hold reservation is not available. Also buying refundable flight tickets with them will be very expensive.
5) How Book Flight Itinerary or Flight Reservation or Return Ticket Works?
Booking a confirmed flight is a very easy process. You can get confirmed flight reservation from a travel consultancy or online visa agency like VisaBookings. It is highly advisable and proven to be very successful for many global travellers when they got flight itinerary from services of specialist visa agency like VisaBookings, as they have partnerships with airlines, offer good flight deals and support all queries related to flight reservation until visa is approved. All you need to do is to pay a small fee to by flight itinerary package. You will then receive your confirmed itinerary through email, which you then add to your visa application documentation. Once your visa is approved, you can be flexible with travel dates and don't have to follow the same itinerary which was submitted with your Schengen visa application or any country visa application.
6) What is a PNR code or Reservation code in Flight Reservation or Flight Itinerary?
This is the code with which you can go to airlines website and check your flight reservation online. Global embassies do check flight itineraries thoroughly.
7) How Flight Itinerary or Schengen visa flight reservation document look?
Flight itinerary basically provide the complete details on Outward journey flight number,
Airport, Travel date, Travel times, any stop-over locations, traveller names and return Journey complete flight details
         Sample Flight Itinerary or Flight Reservation Document