How to fill Schengen visa application form
A Schengen visa allows an individual to travel into the member countries trouble-free for up to 90-day period. Filling schengen visa application is a crucial step in visa process as visa officer verifies all the data. Instructions should be read carefully before filling this schengen visa application form. There are no boundaries present between the Schengen states for the Schengen visa holder due to the signed agreement between these countries. Schengen visa is one of the most applied visas in the world. The Schengen visa application form is easily available online. You can download and fill the form online from the following link.
SCHENGEN VISA APPLICATION FORM DOWNLOAD
Schengen area is the EU passport-free zone; it covers 26 European countries which make it a world's largest free travel area.  Below is the list of those countries.
| | | |
| --- | --- | --- |
| Austria | Belgium | Czech Republic |
| Denmark | Estonia | Finland |
| France | Germany | Greece |
| Hungary | Iceland | Italy |
| Latvia | Liechtenstein | Lithuania |
| Luxembourg | Malta | Netherlands |
| Norway | Poland | Portugal |
| Slovakia | Slovenia | Spain |
| Sweden | Switzerland | |
This article contains everything you need to know to fill the Schengen visa application form.
Few things to keep in mind before filling the Schengen visa application form:
Write everything carefully and honestly
If not filling the form on the computer, use a black pen to fill in the details
One form is for one applicant
The information on the form should match the information at your passport
Schengen Visa Fee:
The Schengen visa fee listed as below.
| | |
| --- | --- |
| Schengen Visa Category | Fees in Euros |
| Adult | 60€ |
| Children between 6-12 yrs | 35€ |
| Children less than 6 yrs | Free |
| EU/EEA national family members | Free |
| Diplomats traveling for Official reasons | Free |
Step by step instructions to fill the Schengen visa application form
This is the guide to fill the Schengen visa application form step by step. Initiating with your photo, paste it on the form after you download and print it. Now let's see what to put in each section one by one.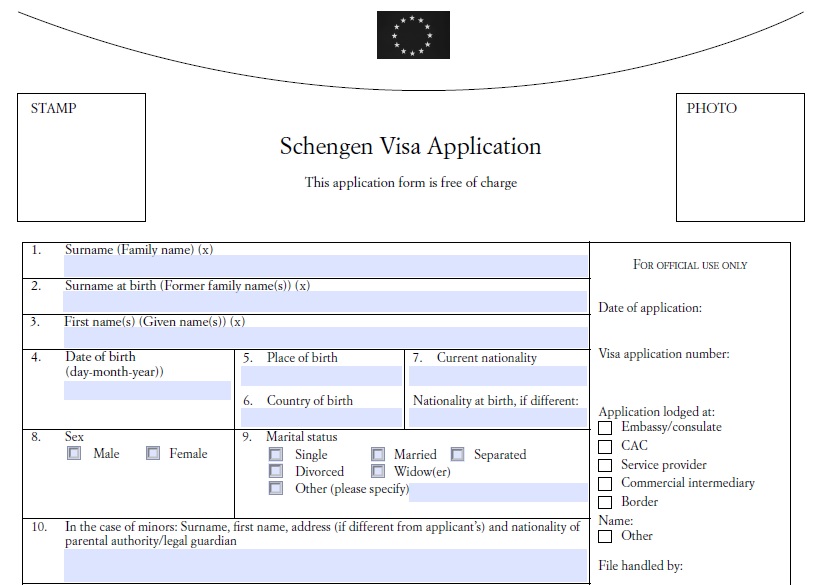 1. Surname (Family Name)
Write the name that is present on your passport. Avoid writing any other information like married name or father's name etc.
2. Surname at birth (Former Family Name)
Write your birth surname if it is different from the previous section, otherwise, repeat it.
3. First Name(s) (Given name(s))
Your first name(s) that is present on your passport.
4. Date of Birth
The format to write your birth day should be DD-MM-YYYY; for instance, 09-09-1980
5. Place of Birth
Write the place of your birth similar as mentioned on the passport.
6. Country of Birth
Write the name of the country in which you are born.
7. Current Nationality
Write your current nationality – the passport you are bearing. Also, fill in the Nationality at birth column if it is different from your current nationality.
8. Gender
Check either the Male or Female box.
9. Marital Status
Mark the one showing your current marital status.
10. Minor Information:
Add the surname, full name, address (if not similar to the applicant's address) along with the nationality of the person having legal custody or guardianship of the child.
11. National Identity Number:
Many countries provide a specific identification number to individuals. If you have one, write it down.
12. Travel Document Type:
Check the correct box.
13. Number of Travel Document
Give your passport number or other travel document number.
14. Date of issue
Write the date of issuance of your passport.
15. Valid Until
Write your passport expiry date.
16. Issued By:
Write the authority that has given you the passport.
17. Applicant's home address, email address and Telephone Number(s)
Give the information related to your home address, email address and working phone number.
18. Residence in a Country other than the country of current nationality
Mark the correct option among all.
19. Current Occupation
Write your current occupation like a teacher, or a retired professor.
20. Employer or Educational Institution information
Fill in the information correctly in this section.
21. The Main Purpose(s) of Your Journey
Check the box that best tells about the motive of your trip.
22. Member State(s) of Destination:
Mention the country that is your main destination.
23. Member State of first entry:
Tell about where you will put your steps first in the Schengen region.
24. Number of Entries Requested
Mark the box having correct number of entries.
25. Duration of the intended stay
For how long do you wish to stay in the region, mention it here.
26. Schengen Visas Issuance in the last three years
Mark the correct option and enter the validity if your answer is Yes.
27. Fingerprints Collection:
Enter yes or no depending on whether your fingerprints have been taken before for the visa application.
28. Entry Permit for Your Final Destination Country, If Applicable
Enter the details of entry permit if you have visited any other nation.
29. Intended Arrival Date
Enter your expected date of arrival in the Schengen region.
30. Intended Departure Date
Tell about when you want to leave the Schengen region.
31. Host Name/ Accommodation information
Enter the details of the person inviting you or add the accommodation information.
32. Information of Inviting Company:
If any company is hosting your trip enter their every detail correctly.
33. Living and Traveling Cost (Means of Subsistence)
Mark the correct option on the application. More than one box could be selected.
34. Personal Information of the Family Member (if any):
If your family member is an EU, EEA, or CH citizen, enter the details.
35. Family Relationship
Mark the correct box showing your relationship with the EU, EEA, or CH citizen.
36. Place and date:
Mention the date on which you are filling the form and your present country.
37. Signature
After completing the application, the applicant above age 18 must sign the document. For the minors, individuals having parental authorities must sign.
Visa Bookings is a one stop solution for all countries visa application needs. We offer best ways to apply for a visa and make the process easy with our free visa consultations, no objection certificate, cover letter templates for our clients from Canada, UK, US, India, Europe, Australia, Philippines, China, UAE, Saudi Arabia, Turkey, Nigeria and all other countries. We also offer flight itinerary for visa, hotel reservations for visa, travel medical insurance, and other on demand services.  Please feel free to send us an email or contact us where our team will be happy to assist.