Canada Visitor Visa Guide: How to Apply Online and On Paper?
Canada is a highly developed country located in North American continent. Every year candidates from all over the world apply for a Canadian visitor visa. But to do that without any complication, one must know how to apply the Canadian visitor visa. It is the Canadian Consulate or Embassy in your home country that decides whether to accept or reject your Canada visitor visa application. However, finally when you are at the Canadian border, you are supposed to satisfy the Canadian Border Services Officer (BSO) by answering all their queries. In case you are unable to do that, you will not be allowed to enter Canada in spite of having a Canada visitor visa. This post is a comprehensive guide to get Canada visitor visa/ Tourist visa to Canada. Here we will make sure that your Canadian visa application (online or on paper) does not get rejected.
SCHENGEN VISA
HOTEL RESERVATION
Who should apply for a Canada Visitor Visa?
Citizens of the countries that do not have Electronic Travel Authorization (eTA) agreement or Canada visa exemption must apply for a Canadian visa to enter here. There are about 148 countries that must apply for the Canada visa.
Who cannot apply for a Canada Visitor Visa?
Anyone with a criminal record, organized crime and human rights violation is not allowed to enter Canada. Your inadmissibility may also depend on your health, security and financial reasons.
How long can you stay in Canada?
When applying a Canada visitor visa (also known as Canada Temporary Resident Visa), the applicant can stay up to 6 months in Canada. When you are at the entry port, the officers at border services are the ones who can determine the duration of the period of stay. It can be more or less than 6 months. Officers do this;
By putting the visa expiry date in the passport
By giving you an independent document known as visitor record
Eligibility Criteria for Canada Visitor Visa
Each Canadian visa requires different eligibility requirements. You are normally asked questions about the following;
Age
nationality
Family members
language ability
education
work experience
income or net worth
details on any job offer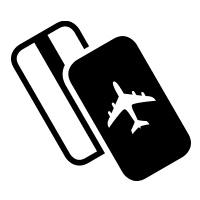 SCHENGEN VISA
FLIGHT RESERVATIONS
Canada Visitor Visa Eligibility Requirements
You must own a valid passport or travel document
You must be in a good health condition
The applicant must have no criminal record
You must prove that you have enough financial assets, jobs and family that can bring you back to your home country (if needed).
You should have sufficient amount to support your trip to Canada
The applicant must ensure that he/she will leave Canada before the expiration of the visa.
Going through a medical examination and a letter of invitation by some Canada resident may also be a part of the requirements (if asked by the authorities).
Visiting this link from the official website of Canada immigration, you will see the following page. Each applicant is supposed to answer the following questionnaire to check their eligibility requirements. 
Who can't apply online for a Canada Visitor Visa?
There are some exceptions where you cannot apply online to get Canada visitor/tourist visa. Those who own the following documents from a visa exempt country must apply on paper.
alien's passport for stateless persons
other refugee travel document for non-citizens
Steps to apply for Canada Visitor Visa
Canada visitor visa can be applied online as well as on paper application. In most of the cases, applying online is highly recommended. To apply, you will be shown the following fields. And you will have to choose between online and on paper application from the drop down menu.
Why to apply online?
Online Application is sent instantly without any courier fee or other charges.
Applying online ensures that the submitted application is complete in every respect. Even if it has some flaws, it will be returned to follow the complete application package before resubmission. Just like in the image below.
If any further documents are required by the Canadian authorities, it can easily be submitted online.
When it is about online application, you don't need to submit your passport until you are asked for it.
You can easily follow up the status of your Canada visitor visa application by logging in to your online account.
Get Your Travel Insurance For Visa Application.
1) Applying Online Process
2) Pay the Fee
The next step is to pay the fee. Paying fee before submitting the application is a must-do or else you may experience delays in visa processing. You must have a valid debit or credit card to pay the visa fee.
There are two types of fees;
application processing fee
biometric fee
 For biometric fee, the applicant must check here whether it is applicable on him or not. Refer the fee chart for Canada visitor visa. Both visa fees should be paid using the same payment method of debit/credit card. Check out the image below to find your right payment method.
3) Submit your Canada Visitor Visa Application
Once you have completed the application, submit it in your IRCC secure account. Right after submission, your visa officer will check the application. He will check;
The application is completed.
You have paid the fees (biometric and processing fee).
Your documentation is completed.
If any of the above details is missing, the application will be returned to you for correction. The applicant can follow up his application status in his account.
4) Follow the Biometric Procedure
Once you have paid the biometric fee, you will receive a letter containing all the info regarding the place where you need to go to submit your biometric details.
To give your biometrics, you must have your valid passport and that letter sent to you by the authorities.
Following these instructions is mandatory to give your biometrics.
Applying Canada Visitor Visa (or Temporary Resident Visa) on paper
When you are applying a Canada Visitor Visa on paper, you follow the same rules and eligibility criteria as we have discussed in online application section, except for a few points that are being discussed below.
1) Get the application Package
This paper application package consists of all the required documents and forms that a candidate needs to submit.
Reading the instructions carefully is a must. In case of having any error in your visa application, your paid fee will not be refunded.
If the applicant is below 18, he/she must get this form signed by the guardians/parents.
Coming to this page, the applicant is supposed to enter the country name from which he will be applying for the Canada visitor visa. Clicking the GET DOCUMENTS button will give you all the instructions regarding application and documents.
2) Pay your application fees
Now the applicant is supposed to pay the processing and biometric fee of himself and any other person included in the visa application. Depending on your case (based on officials decision), you might be asked to pay the third party fees that may include charges for;
Once you have paid the fee, using any of the payment methods (mentioned above), you will receive an email with the copy of your fee receipt. You can always login or visit your account to keep a track of your payment history and to view your receipts.
As you are applying on paper, you need to get the print out of this receipt to get it submitted with your visa application form. The visa application guide tells you where to submit your paper application.
3) Forward the Visitor Visa Application
Once you have paid the fee, you must send the application to the address suggested by the immigration guide.
4) Give Biometric Details
You will be notified about the place, date and time to give your biometrics details (only after paying biometric fee). You have the limit of about 30 days to give your biometrics.
5) What after applying?
Now is the time to wait for the other side's response. The applicant can keep the track of his visa application by answering the questions here.
What if some Additional Documents are required?
In case of any additional documents' requirement, online applicants can upload them in their IRCC secure account. Those who have applied on paper application, they will be informed via mail/email about the address to send the remaining documents.
Sum Up:
Once you have cleared all the steps mentioned above, you still have no surety of making an entrance into Canada. On arriving here, your identity will be thoroughly checked by the authorities to make sure that you are the same person who has applied for the Canada Visitor Visa.