The easiest pathway to get an Egypt visa
Egypt is the lands of pyramids, famous for its ancient history of the kings. Last year, over 9 million tourists applied for an Egypt visa to visit this region and the numbers are expected to soar high this year as well. Here is the detail of how to apply for an Egypt visa?
Egypt visa types:
There are two categories in which Egypt's visa is divided. Before you apply for an Egypt visa, you first need to decide which visa type you should apply for:
Tourist Visa: For the individuals who intend to visit the country as a tourist, to apply for an Egypt tourist visa, you just need to visit their embassy, e-visa is also available for certain countries.
Entry Visa: That allows the people to business, study, or work in Egypt – it basically allows them to have a residence there.
Furthermore, applying for an Egypt visa is labeled according to the number of entries:
Single Entry: Allows the visit of about 60 days and valid for 6 months
Multiple Entries: Allow up to 90 days stay for 30 days each stay and also valid for 6 months
Where to go for applying an Egypt visa?
You must apply for an Egypt visa before your trip if your country is not present in Egypt's visa exemption list. Apply for the visa by going to the Egyptian Consulate or Embassy present in your country/ region. Follow these steps to locate the Egyptian ministry near you.
Egyptian visa processing times
The Egypt visa process is not very long and processing time varies between 5 and 10 days. However, the timeline is entirely dependent upon the embassy at which you are applying. The countries that need pre-approval for a visa, their applications might take around 6-8 weeks to process. In most embassies of Egypt, you don't need to go for the appointment beforehand. Just take all your documents and visit the embassy during their working hours.
So it is advisable that if you are planning to visit Egypt, don't wait and apply for the visa beforehand.
What are the documents required to apply for an Egypt visa?   
Here are the Egypt tourist visa requirements, the visa requirements for the other visa types are almost similar but you additionally need to present the details of your educational institutions and business plans.
Visa application form: For Egypt visa application form, you first need to fill it online and then submit it.
Passport: A passport that has the validity of six months when you wish to visit, it is needed with the two photocopies of passport information pages. Also, the visa should have an empty visa page.
Photographs: Two recent passport size photos having the white background with the applicant name marked on the photo back. They shouldn't be older than three months.
Proof of travel Arrangement: You need to present a flight itinerary of traveling to the country and returning home. It should be a two-way ticket. Get the round-trip ticket from us at the very nominal rates without originally buying the ticket. The fate of the visa application acceptance is in the hand of the visa issuing officer, so why to buy the ticket before acceptance.
Proof of accommodation: Where will you be staying when you visit Egypt? You need to give information about the hotel reservation. More details can be found at  hotel reservation for visa
Personal document: Your national identity card, or birth certificate, or marriage certificate is also needed wherever applicable.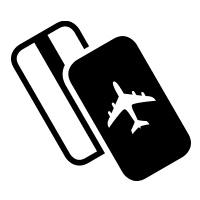 Egypt tourist visa and Business visa fees:
How much you may need to pay as the visa fee depends upon the country in which you reside.
| | | | | |
| --- | --- | --- | --- | --- |
| Countries | Single Entry Tourist Visa | Multiple Entry Tourist Visa | Single Entry Business Visa | Multiple Entry Business Visa |
| USA | $15 | $15 | $40 | $55 |
| Canada | $65 | $85 | $65 | $85 |
| Nigeria | $75 | $125 | $75 | $125 |
| UK | $95 | $160 | $95 | $160 |
| Zimbabwe | $45 | $55 | $45 | $55 |
| All Other Countries | $30 | $40 | $40 | $55 |
The fee of Egypt visa on arrival is $25. The Egypt e-visa fee for single entry is $125, and a multiple entry visa fee is $160.
How to pay the visa fee?
The visa fee can be paid via postal order, money order, online (when applying for e-visa), and cashier's check; however, it all depends on the consulate or embassy of Egypt present in your region
Get Your Travel Insurance For Visa Application.
How to receive your Egypt visa?
After the successful submission of the visa application, you might need to attend the interview at the embassy. During the interview, you will be asked about your personal information, your traveling purpose, and also how you are going to spend time there.
When your visa is processed, you will get the notification from the consulate or embassy. You have two options mainly to receive your passport with the visa stamped. Either visit the embassy in person or ask them to mail it to you.
Countries Eligible for Egyptian E-visa:
Not all countries are eligible for Egyptian e-visa; here is the list of eligible countries:
| | | | | | |
| --- | --- | --- | --- | --- | --- |
| Albania | Czech Republic | Iceland | Macedonia | Poland | Sweden |
| Australia | Denmark | Ireland | Malta | Portugal | Switzerland |
| Austria | Estonia | Italy | Moldova | Romania | United Kingdom |
| Belgium | Finland | Japan | Monaco | Russia | United States |
| Bulgaria | France | Republic of Korea | Montenegro | Serbia | Ukraine |
| Canada | Germany | Latvia | Netherlands | Slovakia | The Vatican |
| Croatia | Greece | Lithuania | New Zealand | Slovenia | |
| Cyprus | Hungary | Luxembourg | Norway | Spain | |