Three steps to apply for China tourist visa application?
China is one of the largest country in Asia attracting many tourists who apply for china tourist visa. Changbai Mountains, Great Wall, Forbidden City, Temple of Heaven, Five Sacred Mountains, and many other splendid destinations are attracting tourists to China from all over the world.
How to obtain China tourist visa application?
Travelers requiring china visa need to prepare documents thorough to get China Tourist Visa approval. You need a visa to travel to these marvelous natural and holy places but how to apply for China tourist visa? It's easy! Have a look.
Step 1: How to initiate a Chinese visa application?
Know which visa to apply for. The people's Republic of China offers L-visa for those who intend to visit the country as a tourist. After selecting the category, you need to set up the visa application accordingly with the required documents.
Step 2:  Where do I apply for a China visa?
Consulate General and Visa Office of the Chinese Embassy accept your visa application. Where to go depends upon the country you are residing in.
Step 3: How can I get a China visa to Travel China?
At the visa office, pay the visa fee to get your visa.
L-Visa: The China Tourist Visa Requirements
Every visa type has its own set of requirements and so does the L-Visa. To apply for the China tourist visa, you will need to fulfill the following requirements:
Passport:  Original passport having blank visa pages; also, copy of the photo and data pages of the passport. It should be valid for at least six months at the time of application submission.
China visa Application form and photo: Fully filled Chinese visa application form having a photo pasted onto the form. Your photo must be on a glossy photo paper, with white or near white background, front-facing, and not more than 6-month old.
Proof of your Current Residence Status: It is applicable to non-US citizens only. Wherever you are currently staying, you must present the valid certificates to prove that. You can show proof of student status or employment position.
Photocopy of older Chinese visas or passports: It is for the citizens of China who have gained the nationality of some other country. If you are a foreigner and applying for the Chinese visa again on a new passport, then you need to present the photocopy of the older passport's visa pages. Also, if your name on the current passport is different from the older one, then presenting the official document of the name change is necessary.Children who are born in the US to Chinese parents don't fall under this category of requirements.
Travel Itinerary proof: Flight itinerary having the information about the round trip tickets.
Proof of accommodation: Documents like a hotel reservation or letter of invitation presented by any person or entity present in China.
Important Notes:
All the information should be correct without any fraud
According to the 2014 China-US visa agreement, US citizens can get the 10-year multiple entry visa; their passport validity should be of 12-month when applying
The number of entries, stay duration, and visa validity will depend on the personal application
The consular officer reserves the right to accept or reject the application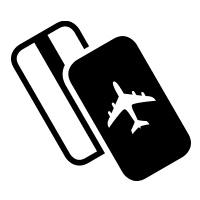 How To Process With Chinese Tourist Visa Application:
Initiate by submitting your application at Consulate General/ Chinese Embassy
Use an agent or submit the application in person – but you need to visit the consular office for the visa interview
For visa submission and collection, no prior appointment is needed – walk-in services are offered during the working hours
When your application is processed and approved, you need to pay the visa fee
Processing Time for Visa Application
Regular Service: 4 business days
Express Service: 2-3 business days
Rush Service: 1 business day (only accepted after the approval by the consular officer and presented in a real emergency)
Depending upon the application, some even need longer processing time.
Get Your Travel Insurance For Visa Application.
China Tourist Visa Fee
China visa fees depend on your nationality, number of entries and also the type of service you need. Chinese visa fee for US citizen is different from others.
Regular Service:
Here is the chart to their regular visa service fee. Visa will be made available to you on the fourth business day of your application.
| | | |
| --- | --- | --- |
| Entry/ Entries | Third Countries Citizens | U.S. Citizens |
| Single | $30 | $140 |
| Double | $45 | $140 |
| Multiple Entries – 6 Months | $60 | $140 |
| Multiple Entries – 12 Months plus | $90 | $140 |
Note: Third countries fees could be different from the mentioned fee for some countries due to reciprocal agreements.
Express Service:
Chinese visa express service is for you if you want your visa within two or three business days. You can pay $25 extra per application to get it earlier.
Same-day Rush Service:
When the application is placed before 12:00 p.m. and visa could be gained in the afternoon by paying extra fees of $37 per application.
Mode of Payment for China Tourist Visa Fee
You can pay the visa fee via cashier's check, money order, or credit card (MasterCard and Visa are accepted only).  The money order and checks are payable to the China Visa Embassy. Personal checks and cash are not accepted.