Is Schengen Visa Travel Insurance Needed?
Although many people don't initially think of getting visitors insurance when going on a trip, it is extremely worthwhile in the long run. It's easy to think "why should I get schengen visa travel insurance, what could possibly go wrong" until something does go wrong, and you find yourself with a hefty bill in case travel medical insurance was not purchased. If you need a schengen visa for your trip you may find that you have to get schengen visa travel insurance in order for your application to be accepted. But, what if you purchase insurance and your visa application gets rejected, what happens then? Throughout this post, we will explain exactly what you need to get, how to purchase travel medical insurance for visa application and how it works.
What is travel insurance?
Travel insurance or travel medical insurance is a policy that you purchase prior to traveling that, in the unlikely event of you landing in the hospital or at the doctors, your fees will be covered by your travel insurance policy or travel medical insurance. Rather than you having to pay the bill, the company in which you bought your policy through, pays it. Depending on the type of policy you purchase you could be covered for more than just medical fees. Most travel medical insurance policies also cover a selection of travel disruptions as well as medical needs, the following are the likely areas that a visitors insurance policy would cover you for
Airline cancellation
Lost baggage
Flight cancellation due to weather
Accidental death/injury
Stolen travel documents
Hospital fees
Medicine costs
Emergency Evacuation
Why do you need travel insurance for visa application?
There are many documents that are needed for a visa application, in most cases travel medical insurance is one of them. The embassies need to see proof that you will be covered whilst you are away as fees and medical bills can easily run into the thousands and tens of thousands of pounds very easily. If you are not covered and do not pay your outstanding medical fees then the authorities will have to spend a lot of time, money and resources to track you down as well as the hospital being at a loss.
Things you should know about visitors insurance for visa
When applying for travel insurance for visa you will need to disclose any health conditions e.g. cancer, diabetes, asthma, etc this will then ensure you receive the correct insurance policy that will fully cover you. You may find that, if you do have a health condition, your insurance cover will be more expensive. This is because you have a higher chance of needing medical assistance during your trip. If you purchase travel medical insurance and do not disclose any medical conditions that you are aware of, your insurance will become invalid if you result in needing medical treatment. You will end up having to pay the bill and you will not be covered by your travel  insurance. Most policies will cover pregnancy in the first trimester as long as your doctor has deemed you safe for flying.
Why Travel Insurance is required for applying Schengen visa
One of the requirements to apply for Schengen visa is to have Schengen visa travel insurance. As we all know that travelling involves some risk. These can be health risks due to change in climate and life style or any other emergency situation faced during travel. It is must to get a policy for you according Schengen visa requirements.  All you need to show is one-page insurance coverage letter indicating that the applicant is covered by Schengen Travel Medical Insurance (Minimum coverage is €30.000 for all medical expenses which may happen in any Schengen country). By providing an acceptable Schengen travel insurance you can surely increase the chances of getting your Schengen visa.
What factors you need to consider when buying travel insurance
You have to fulfill all the requirements of Schengen visa travel insurance to get your visa approved. Your Schengen travel insurance should fulfill  all the following requirements:
EUR 30,000 minimum coverage
zero-deductible insurance
Insurance should cover all the Schengen countries.
It should cover the duration of your entire trip in Schengen countries
Provide 1page Schengen visa insurance letter
These factors will depend on the visa that you are applying for, but this is usually the standard requirements for a Schengen visa application.
What if my  Schengen visa application gets rejected?
If you have purchased the correct travel insurance for the visa application, you will not need to pay the remaining balance as your trip is no longer happening at that time. If you receive your visa but your trip dates have changed, the insurance policy should be able to be changed for your new dates at no additional cost.
SAMPLE SCHENGEN VISA INSURANCE LETTER
The letter shown above is needed to be submitted along with your Schengen visa application. As you can see above, this insurance covers you for $50,000 that is above the required minimum for a Schengen visa application and must be 0 deductible. There are few insurance concepts like 0 deductible Schengen insurance and others which many people don't know and in this blog we explained all those terminology. Buy Travel insurance for Schengen visa application in 3 easy steps:
If you are planning to have a trip to Schengen areas, you no longer need to worry about getting travel medical insurance for applying Schengen visa. You don't need to visit travel agents. It is very easy to get it done from your home. You can simply choose a reliable site and follow the instructions to get your visitors insurance. Here we will explain all the steps and procedures you need to follow to get travel insurance for applying Schengen visa. You will get a Schengen insurance letter through email which you can attach with your Schengen visa application form to proceed the process.
Step 1: Choose your travel Insurance package on VisaBookings site:
24 hour Delivery Schengen Visa Travel insurance
Step 2: Provide all the travel details to get travel insurance for Schengen visa:
You need to provide the basic details about your travel itinerary. You will have to give following information with some of your personal data.
1) Number of tourists who require travel insurance.
2) Your departure and arrival destination.
3) Number of Days insurance Required
Step 3: Once your order is confirmed, VisaBookings team will send the travel medical insurance documents listed below to your email which you can submit along with Schengen visa application
1) Schengen Visa Insurance letter
2) Insurance Policy Id Card
3) Insurance Policy Document
You can further contact the available customer service or helpline if you are facing any ambiguity during this process. Getting these services from reliable resources decreases the chances of visa rejection.
FAQ – Schengen Visa Travel Insurance
1. What do you meant by zero-deductible insurance and do you need to fulfill to comply with Schengen visa requirements?
A zero-deductible insurance plan means that you do not have to meet a minimum balance before the health insurance company will contribute to your health care expenses. In short 0 deductible means your out of pocket amount will be zero and insurance provider will take care of all travel medical expense claims. Majority of consulates accept zero-deductible insurance and highly recommended. Note some consulates even accept insurance without zero-deductible insurance for approving visa.
2. What kind of travel insurance is needed for Schengen visa?
Have minimum coverage of EUR 30,000.
zero-deductible and cover all the member states of Schengen region.
Valid travel insurance covering any possible costs for medical repatriation, and emergency and/or hospital treatment.
3. Is travel insurance mandatory for applying Schengen visa?
Yes, it is must to get travel insurance for applying Schengen visa. Flight reservation, hotel bookings and getting travel insurance are mandatory requirements for Schengen visa application.
4. How can I get cheap Schengen travel medical insurance?
There are regulated laws controlling travel insurance price and most insurance providers have rates which are very close as they cannot hike rates. It is recommended to go with quality service provider who can support your queries at all times.
5. Can money be refunded in case of trip cancellation?
Yes, you can inform about your trip cancellation one week prior to policy kickoff through email. Your money will be refunded to you before the policy is active.
6. How can I claim my travel insurance?
You should have your travel insurance policy number and emergency contact number. Claim form and policy documents are required to claim your insurance.
Netherlands Embassy Needs Proof of Travel Health Insurance
Spain Consulate Needs Proof of Travel Accident Insurance
Germany Embassy Needs Travel Insurance along with flight itinerary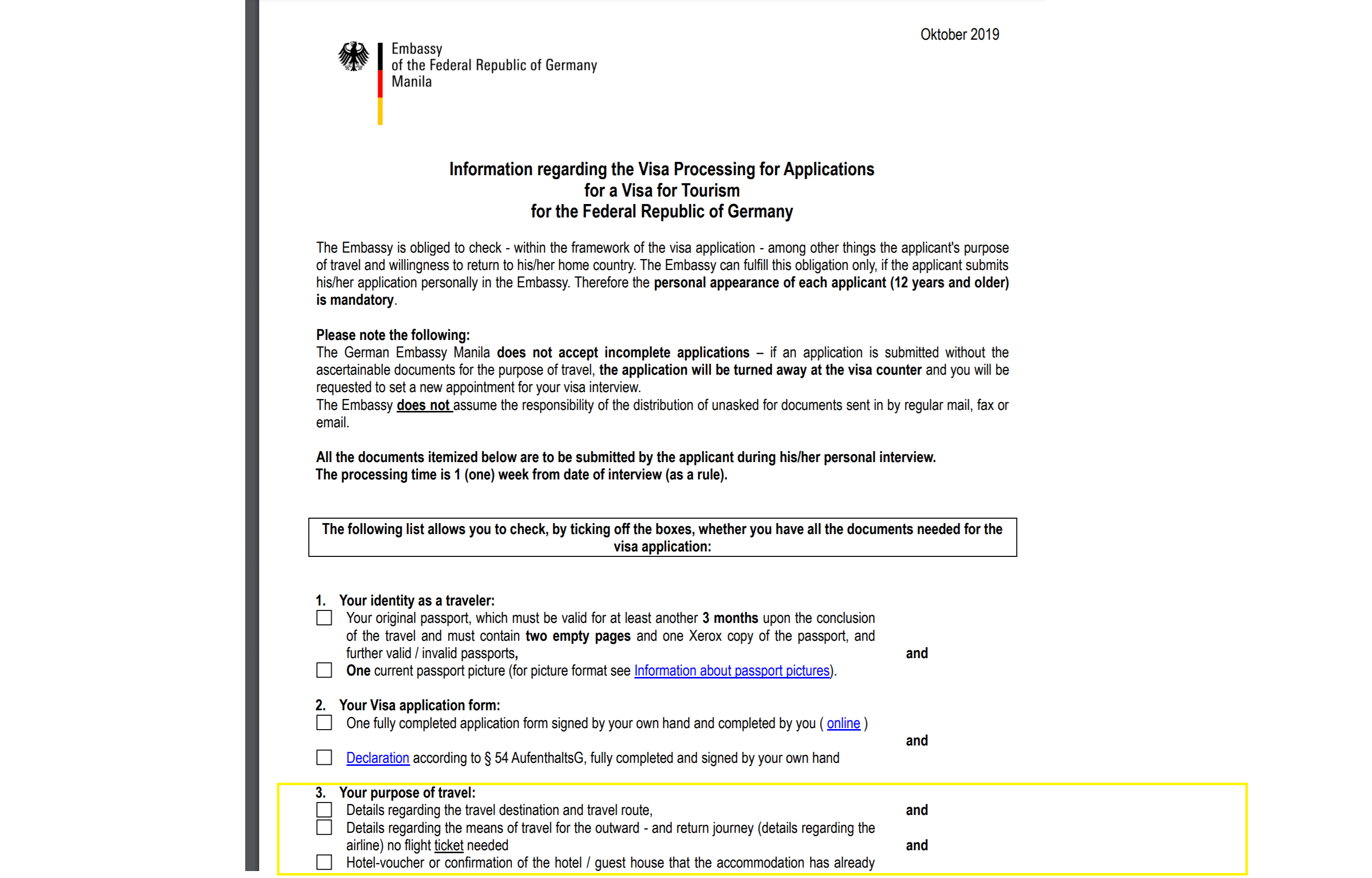 Denmark Consulate Needs Travel Insurance certificate
France Consulate Needs Visitors Insurance For Visa
Summary -All Schengen consulates state the below
Do not purchase actual flight ticket until your visa is approved. Round trip flight reservation or itinerary with flight numbers, pnr code and dates showing entry and exit from Schengen state are accepted. In some cases Schengen authorities accept the itinerary during visa processing but may request the original air ticket when visa is collected.