Invitation Letter for Schengen visa or Any country visa
Every year a huge number of tourists apply a Schengen visa for any of the participating countries. Beside other required documents, proving their trip legal is yet another important step. In case of not doing so, you are quite likely to get your visa rejected.  Those who are going to apply a Schengen visa for the first time might feel confused about what is an invitation letter for Schengen visa. No worries as here we are going to enlist a step by step guide to make you understand that why and how to write an invitation letter for Schengen visa.
SCHENGEN VISA
HOTEL RESERVATION
Purpose of an Invitation Letter for Schengen Visa
An invitation letter ensures that the applicant;
will follow the basic purpose of his tour
will not stay more than the proposed time
will not indulge in any illegal activity in the Schengen region
Are all invitation letters for visa the same?
The answer to this very important query is NO! The content of each invitation letter depends on the purpose of traveling. The format of the letter can be same.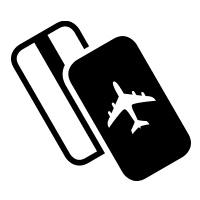 SCHENGEN VISA
FLIGHT RESERVATIONS
Types of Invitation Letter for Schengen Visa
Depending on the purpose, following are some of the basic types of invitation letter for Schengen visa;
Invitation letter from friends or family for Sightseeing or Tourism
If the purpose is simply to travel for a family or friend meetup, the applicant must attach an invitation letter from the host or the person he is going to stay with. This letter must have the proof of relationship, duration of stay, financial status and purpose of traveling.
Business or Job invitation letter
If your purpose is a business deal, you must get a business letter of invitation. It must include the proof of your business ties and itineraries of all the planned business activities. If you are going to work in a Schengen country, the employer's letter must confirm you as an employee in his company. Moreover, your job position, salary and dates of the trip should also be mentioned in the letter.
Hospital Invitation Letter
If the applicant tends to visit a Schengen state on health grounds or for treatment, he must provide an invitation letter by the particular Schengen doctor who is going to treat him.
Sponsor Invitation letter for Schengen visa
Those who have a plan of attending some conference or a trade show should provide a sponsor letter for Schengen visa. This letter should be addressed by the company or the person sponsoring your trip.
College and university invitation letter for Schengen Visa
A Schengen study invitation must have all the information regarding your study plans in a Schengen country. It may include the duration of the course, finance details and details of the residence. This letter is kind of an acceptance letter by the institution you are going to be enrolled in.
Requirements of an invitation Letter for  Visa
The invitation letter for Schengen visa must have;
Date
Name, contact details and address of the embassy
Opening salutations
Personal information (name, address, contact, email ID) of the inviting person
Invitee's signature
Inviting person's citizenship
Name and passport number of the applicant
Purpose of traveling
Name of the person who will bear applicant's expenses while staying in Schengen region
Dates of planned trip
Proof of Relationship
High level plan
Reasons of invitation
Details of attachments or supporting documents to prove your purpose
Salutations for ending
Language required for Invitation Letter
An invitation letter is a purely official document so the language in this letter must be straightforward, formal and must show your serious intent behind visiting that particular country. Make sure that your letter does not have any metaphors, colloquial language or any kind of local words.
Get Your Travel Insurance For Visa Application.
Sample of an Invitation Letter for Schengen Visa
Date: Details of Embassy Name: Address: Contact no. Subject: Sponsorship letter for (applicant's name and valid passport number) Respected Madam/Sir It is stated that I (sponsor's name) am the resident of (Country name). I am writing this letter in response to the visa application of (applicant's name). Now mention the Purpose of the visit and the planned duration with specific dates for example from 20th January to 11th march 2020. In the dates given above, my guest (applicant's name) will visit (mention the places) these places. The guest (applicant's name) will be staying with me in my place i.e. (sponsor's residence address). Moreover I will be responsible for all the expenditures, traveling fares and accommodation charges of (applicant's name). The supporting documents like my (sponsor's) passport, bank statements and tax returns are attached herewith. Kind Regards. Sponsor's details Name: Address: Phone number: Email I'd: Signature:
Final Thoughts:
To cut the whole discussion short, what you all need to know is that there are some essential documents that are needed to be attached with the Schengen visa application before submitting it to the embassy. Your Schengen visa invitation letter is one of them. This must-have document will not only prove your trip valid and legal, it will also ensure that you will return to your home country once the trip is over.